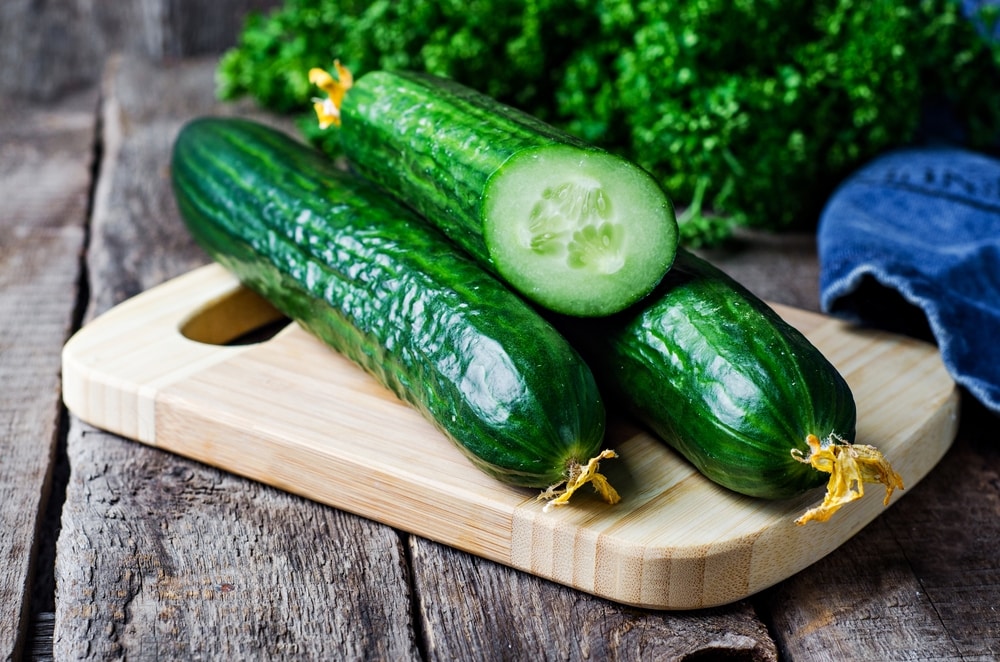 Cucumbers are one of those "go to" salad ingredients that everyone enjoys. They are refreshing to eat and will help rehydrate the body. They have good amounts of vitamin K, C, B, manganese, potassium and copper. Below I have put together a list of their main benefits and why you should eat them on a regular basis.
Pinky And The Brains
One of the main benefits of cucumbers is that they contain antioxidants called fisteins. Fisteins are vitally important for brain health as they prevent inflammation. It is also great for improving memory and preventing damage to nerves in the brain, one of the leading causes of degenerative diseases like alzheimer's.
Further Antioxidants
As well as fisteins, cucumbers are packed full of other essential antioxidants incusing beta-carotene and vitamin C. Flavonoids are also abundant in the form of kaempferol, apigentin, luteolin and quercetin. Quercetin is great for people who have hay-fever and other allergies as it helps prevent histamine being released in the body, making it a great natural antihistamine. Kaempferol has been shown to protect you from the two leading causes of death (cancer and heart disease).
They Help Prevent Inflammation
A really cool thing about cucumbers is that they target enzymes that cause inflammation in the body after they have carried out their roles. This is particularly great if you are already suffering from inflammatory diseases, which most people are!
They Help Prevent Cancer
Cucumbers are packed with lignans, a type of polyphenol (or an antioxidant). Many leading studies have demonstrated that people who regularly consume foods that contain lignans had a much lower risk of developing prostate, breast and ovarian cancers. Cucumbers are also loaded with cucurbitacins, a chemical compound contained in plants that also helps ward of cancer growth.
Healthy Gut
To have a healthy gut you need to provide it with an abundant supply of fibre and water. Cucumbers provide a rich source of both. The water helps hydrate the digestive tract and the fibre adds bulk to your stools and speeds up transit times. They are also great for relieving the symptoms associated with IBS and acid reflux.
Avoid Dog Breath
If you are struggling with bad breath then it is probably caused by a poor diet. Having said that, some people are often afflicted with bad breath as a result of conditions such as tonsil stones. Cucumbers can help reduce the odours produced by bacteria. Simply place a slice of cucumber in your mouth and swish it around while it dissolves. By doing this it will help remove some of those unwanted odours!
Avoid The Stress
People who have low levels of certain B vitamins are generally more prone to mental health conditions such as anxiety, depression and stress. Cucumbers contain a good amount of B1, B5 and B7 that will help reduce some of the symptoms associated with these conditions.
Maintain A Healthy Weight
There are basically no calories in cucumbers. But their fibre content will make you feel fuller for longer, making them a great snaking food throughout the day. Cucumbers also break down into a gel-like texture as the body digests them. This texture slows down the digestive process slightly, making your feel fuller for longer.
A Healthy Heart
To maintain a healthy heart function you need a diet rich in potassium. Potassium helps maintain a regular beat as well as maintaining a healthy blood pressure. Potassium is also an electrolyte and interacts and regulates sodium in the body. This process is essential for a healthy heart contractions and overall heart health.
SIGN-UP FOR MY WEEKLY NEWSLETTER FOR ARTICLES, RECIPES, MEAL PLANS AND MUCH, MUCH MORE!