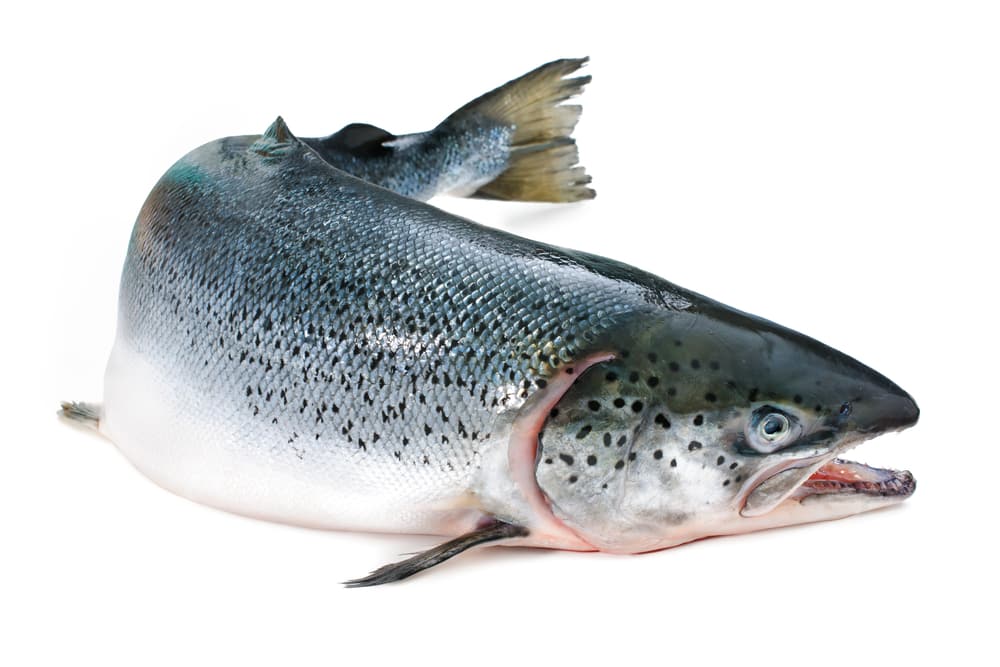 There is a common misconception that fish is a healthier alternative to meat and that it actually promotes health in the human body. In reality this couldn't be further from the truth. While there are many reasons why fish is not healthy I have listed the main four below.
Proteins & IGF-1
Regardless of whether you eat fish, meat, eggs or dairy you will run into problems at some point in your life due to the higher concentrations of essential amino acids contained in these foods. One of the main reasons these amino acids are so detrimental in the body is that they increase the levels of IGF-1 (an insulin-like growth hormone) (study, study, study)
The knock-on effect of this is that IGF-1 speeds up the process of cell division in the body. This extra stimulation of cell multiplication has been heavily linked with cancer proliferation for many years. The science is very clear in this area and we know with certainty that animal proteins increase IGF-1 levels in the body and raised IGF-1 levels cause cancer (study, study, study, study).
Saturated Fats And Cholesterol
If you ask most people why they consume fish the standard response is that it's heart healthy as it contains omega-3 fatty acids. So let me clear this area up for you:
While SOME fish do indeed contain high levels of omega-3 fatty acids (EPA and DHA), the vast majority of fatty acids derived from fish is actually in the form saturated fats. Fish also generally contains high levels of cholesterol. Both cholesterol and saturated fats are among the main risk factors for heart disease.
To give you an idea of how much cholesterol is contained in fish – in both a 3 ounce portion of bass and beef there is the same amount of cholesterol (approx. 75 milligrams). Yet most people don't associate fish with cholesterol.
The omega-3 fatty acids found in fish is derived from the plants they eat in the sea. Fish do not make omega-3's. You can get omega-3's by eating plant based foods like nuts, seeds, beans, vegetables and fruits. These foods provide ALA (fatty acid) which then gets converted in the body to the longer chain fatty acids EPA and DHA (both of which protect us from heart disease).
We only need the 1000mg of cholesterol our bodies make every day for optimal health. We DO NOT NEED ANY dietary cholesterol in our bodies. The more dietary cholesterol we load the body with the more we increase our risk of heart disease.
Chemicals & Pollutants
Most health authorities around the world have advisories around the amount of fish people consume. The reason for these advisories is that most oceans are heavily contaminated with metals such as mercury, chemicals such as PCB's (polychlorinated biphenyls) and insecticides and pesticides such as DDT and chlordane (See sample advisory). In this recent study by the United States Department of Agriculture 84% of all fish sampled from around the world contained unsafe levels of mercury. And why is mercury so bad for the body? Well mercury is neurotoxin (kills brain cells). When you eat foods that contain mercury it is very difficult for your body to remove it. It can then accumulate in the heart (for example) and inhibit normal heart function as well as causing causing central nervous system damage in foetus's during pregnancy (study, study)
What Fish Is Lacking
So we know that fish today contains dangerous levels of mercury, hazardous chemicals and high amounts of saturated fats and cholesterol. So lets also talk about what healthy nutrients fish doesn't contain. Fish contains no carbohydrates (essential for optimal health). It also contains no fiber, essential for healthy bowel movements and the prevention of digestive cancers. It also lacks any real amounts of antioxidants, phytochemicals and other macronutrients essential for health promotion. So in reality people are eating fish for perceived health benefits when in reality its a pretty poor dietary choice.
Surely Fish Is Better Than Meat Right?
This is a ridiculous notion that we humans love to use. Just because fish is slightly less damaging in the body compared to meat, we classify it as a "health food". While the science supports fish eaters being healthier than meat eaters in terms of parameters such as diabetes, weight and other important health factors, lets not be under any illusion. Fish eaters still have very high rates of disease and illness compared to those on plant based diets. So yes, you might be slightly healthier than a meat eater, but if you want to live a long and healthy life then avoid both fish and meat (and dairy for that matter!).
SIGN-UP FOR MY WEEKLY NEWSLETTER FOR ARTICLES, RECIPES, MEAL PLANS AND MUCH, MUCH MORE!